We offer a variety of styles of awnings to best meet your needs. Our awnings are designed and built for consistent, trouble-free, smooth performance for years to come. Sunesta brand products are unmatched in performance, reliability and durability. Our expert team will assist you with the entire process from choosing the right style and color through professional installation of your product.
Styles:
Retractable Awnings
Window/Door Awnings
Patio Canopies
We offer many features and benefits for our professional installed awnings:
American made in Jacksonville, Florida
Custom built to best meet your needs with width up to 40 feet and projections up to 14 feet 8 inches
Fast delivery times with a typical manufacturing time of 14 days
Lifetime warranty on frame and brackets
Best warranty in the nation
Large fabric selection of over 150 colors and patterns to choose from
4 Frame colors to choose from
4 Cable arm system to keep fabrics taut
Motorized
No support posts required - no obstruction of your view
Smart case cassette provides all weather protection
Stainless steel hardware to eliminate the risk of rust or corrosion
Optional LED lighting
Miami/Dade County approved to withstand the elements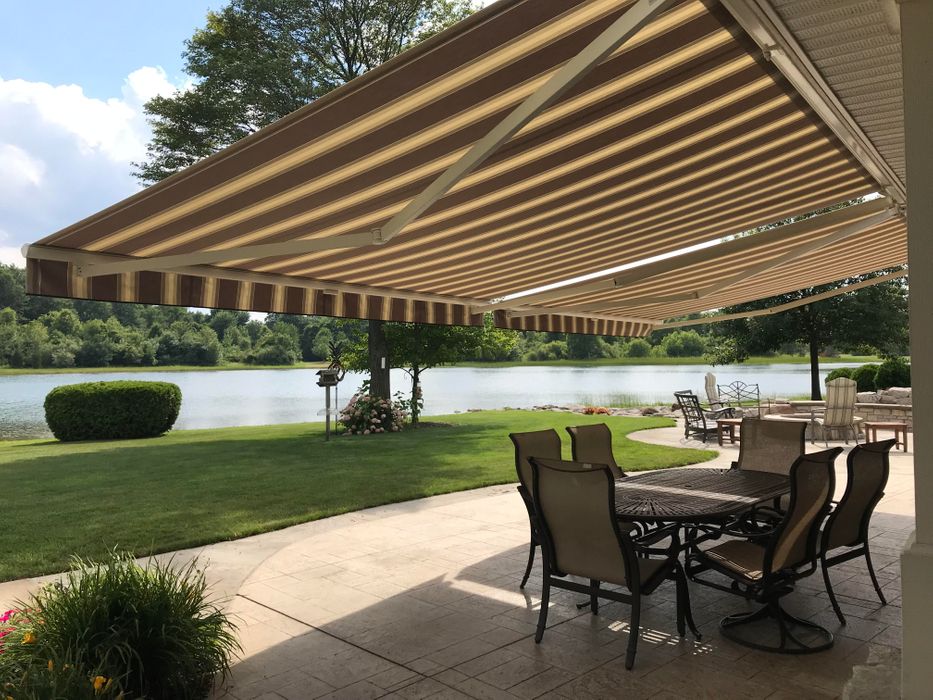 30 Feet of sun protection without losing the view. Imagine being able to watch your kids and grandkids playing on the beach while you're relaxing in comfort under your awning. All while saving on summer cooling costs as well. It's a double win!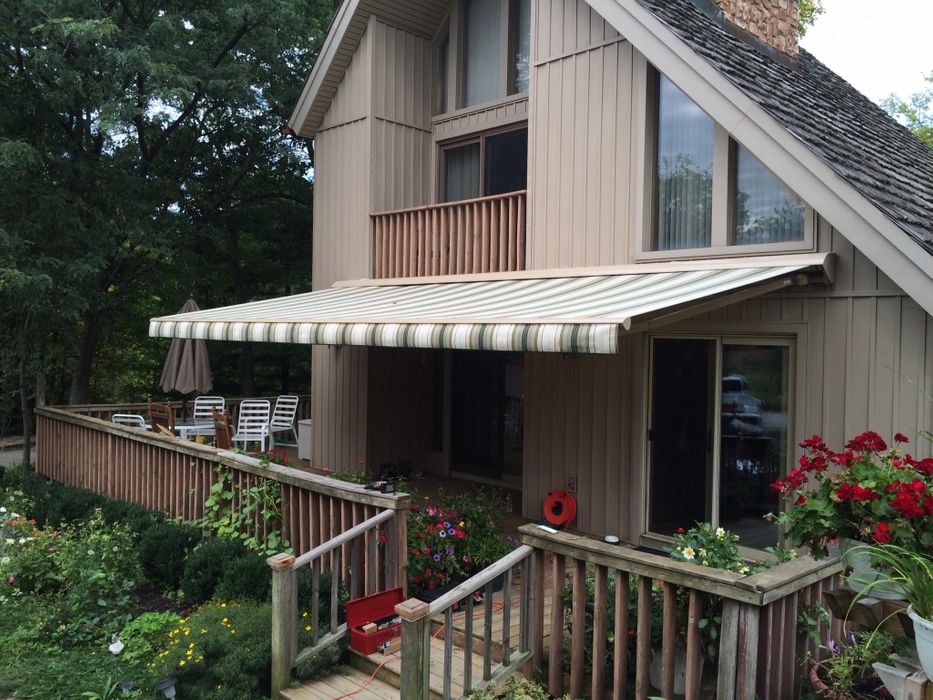 Retractable Awnings - We replaced an old, worn out awning with a beautiful new Sunesta retractable awning to help with rain and sun protection. This gave the homeowner a new entertaining area to enjoy their beautiful garden views.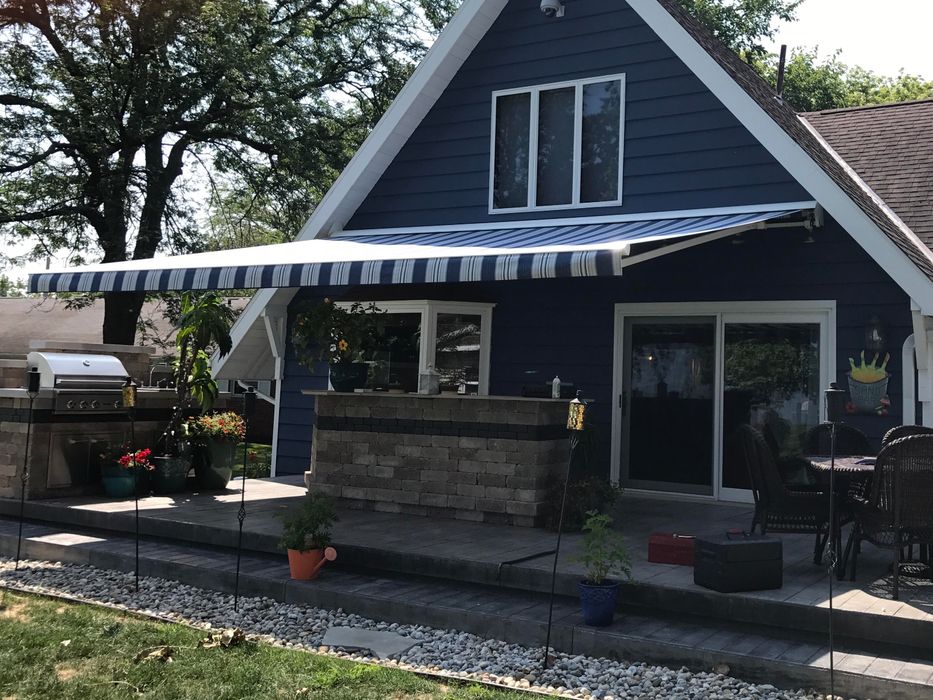 Patio Awnings - Outdoor living at it's best with a 22 foot Sunesta power awning. Just look at the amount of shade on this lake home. The homeowner had "full sun" all day on their patio before we helped them out. Now they can entertain and relax in the shade while enjoying the beautiful views.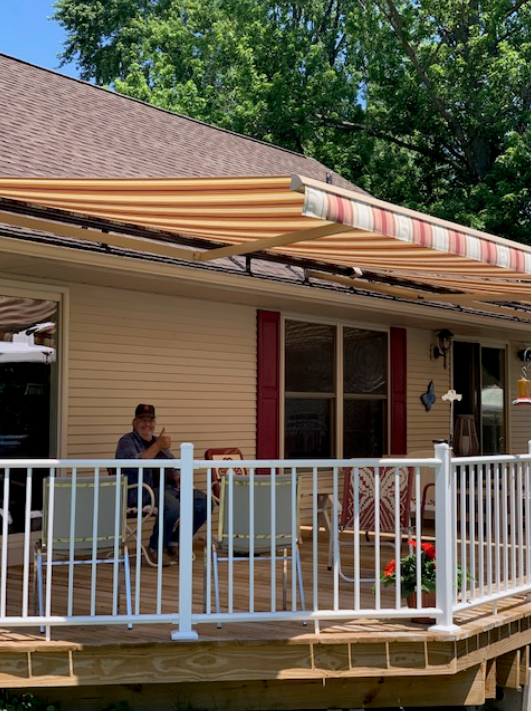 When having low clearance is an issue..a beautiful roof-top 32 foot retractable, motorized Sunesta awning does the trick. We got a "Thumbs up" from this happy customer.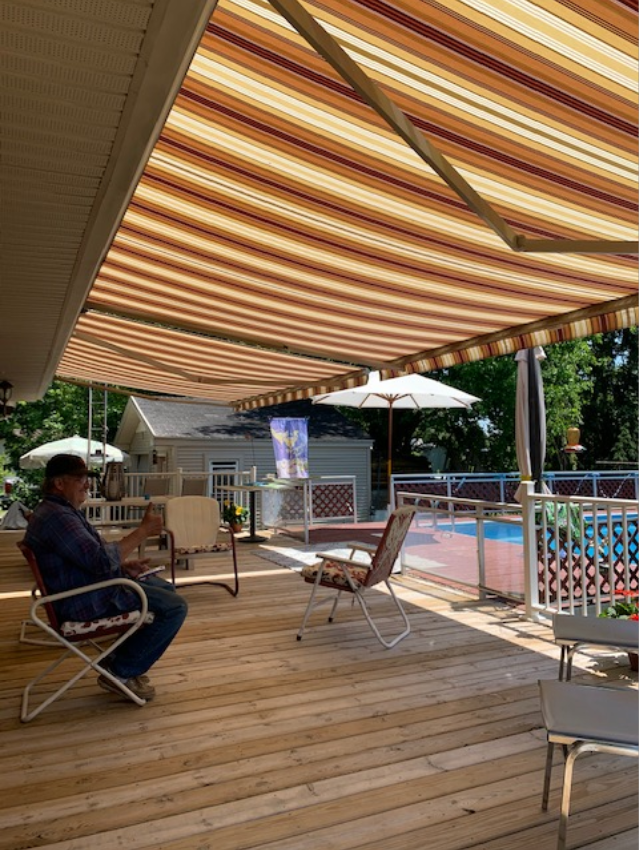 Patio Awnings - Great referrals come from happy customers. We strive to be the best.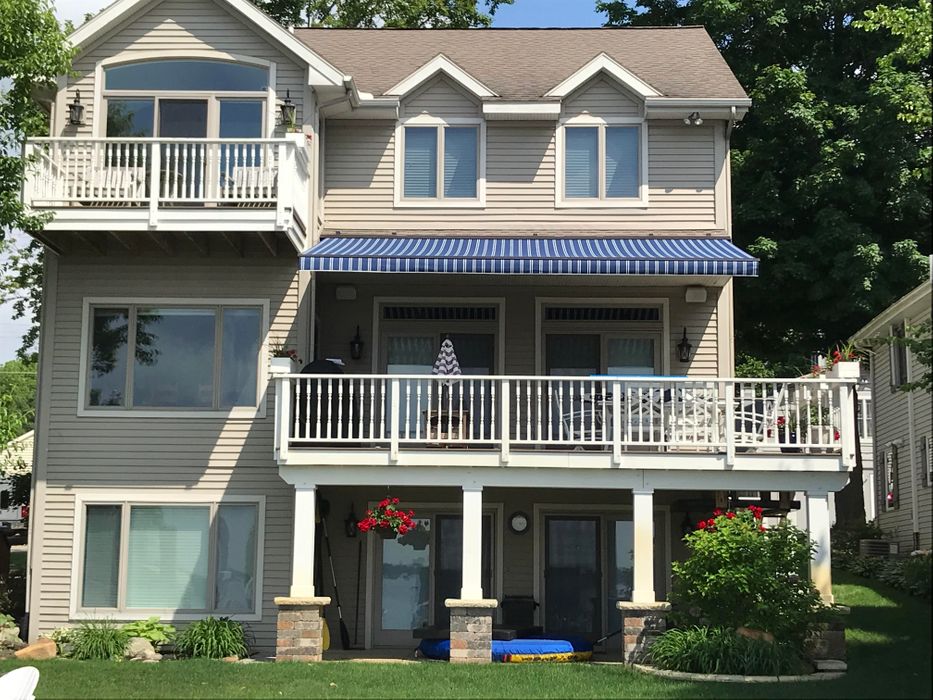 From Summer vacation homes or Lakeside cottages, we make them all look beautiful. Additionally, Sunesta is the only awning fabric company to be endorsed by the Skin Cancer Foundation. Helping our customers stay cool and comfortable in the hot summer heat is our priority.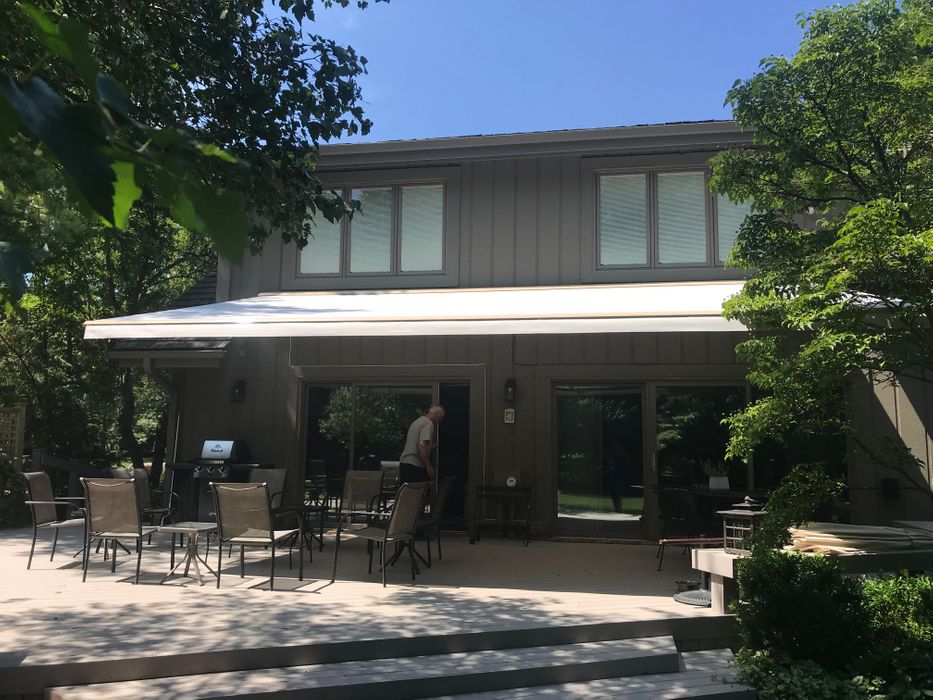 Retractable Awnings - Subtle yet elegant. Perfect sun coverage for a large patio. We helped the client choose a solid fabric that matches the home perfectly on this 24 feet x13 feet retractable power awning. Look at all of the shade it provides on the windows of this home. This also provides the added benefit of a cooler interior living area. A very happy customer here.
Pergola / Courtyard Covers - Most Pergolas don't offer much sun protection. Our power SunPlus motorized product can eliminate this problem. Just look at the amount of shade that the customers now have. With the push of a button on your remote control you can enjoy full sun or the comfort of shade. It's your choice!
Frequently Asked Questions
1. What is the furthest projection out for a Power Retractable Awning?
Sunesta offers Power Retractable Awnings that can extend out to lengths of 14 feet 8 inches, and widths up to 40 feet.
2. How much wind can a Retractable Awning handle?
Sunesta Retractable Awnings are the only Retractable Awning in the USA to carry the "Miami/Dade County Building Code" approval for high velocity winds. Built tough with "The Best Warranties" in the business.
3. What type of warranty is on "most" Retractable Awnings?
If you purchase a lesser quality Retractable Awning, it will likely have a " 5 year warranty". Sunesta Retractable Awnings carry a LIFETIME warranty that is even "Transferable to the next homeowner". Again, built to last.
Here at Elite Awnings & Sun Shades, we know that your home is more than just a house. Your backyard should be your personal oasis. All of our power retractable awnings and screens allow you to expand and enhance your home's outdoor living area by providing shade when you need it and sun when you want it. Either way, you can create your perfect day.
We offer 5 different frame colors and over 150 premium designer fabrics in solids and patterns to perfectly match your home's exterior colors. Our Sunesta fabrics are recommended by "The Skin Cancer Foundation" as an effective UF protectant from the sun.
We will custom build your power retractable awning up to 40 feet wide and extend out to 14 feet 8 inches. All awnings are built "to the inch" to perfectly fit in your intended space. They are all made and assembled right in our Jacksonville, Florida plant.
Our retractable awnings and screens carry a "Lifetime" frame warranty that is also transferable to the next homeowner. All of the acrylic designer fabrics are solution-dyed for outstanding durability and fade resistance, which are also backed by a 10-year factory warranty.
As the pioneer in manufacturing customized retractable awnings and screens, Sunesta offers unmatched engineering for perfect performance. Since 1981, they have led the industry in technological advances, and continue this tradition of engineering excellence in all of their products. Every component, feature, and option is designed with this focus on innovation.